Without the support of our fantastic sponsors, these events wouldn't be possible – thank you to all our sponsors for their continued support, find out more about them below.
2019 Golf Day Sponsors
Main Sponsor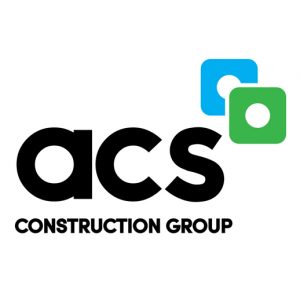 ACS Construction Group sponsored our Charity Golf Day on Friday 13th September 2019 at Heaton Moor Golf Club.
ACS Construction Group Ltd is a leading North West based Civil Engineering & Building Contractor. They offer complete construction solutions, with five dedicated business divisions: Civils and Infrastructure, Development, Building, Energy and Specialist Groundworks.
ACS is a people-first business. They work hard, invest in their people and treat them well. In return, the team has a strong work ethic and does whatever it takes to deliver projects that exceed their clients' expectations.
Established in 2000, ACS Construction Group provides services to a number of sectors including the education, commercial/industrial, government, utilities/infrastructure, leisure, energy and renewable energy sectors.
Their customers include AstraZeneca, National Grid, Cardinal Maritime, Citrus Group, Mitsubishi Electric Europe, VINCI, Trant and many more.
Visit ACS Construction Group to find out more.
---
Co-Sponsors

Established for 40 years, with a proven track record and reputation, Harold Stock & Co Solicitors offers a wide range of the highest quality legal services. Here at Harold Stock and Co Solicitors we can provide you with the very best advice and support in all aspects of the law. Areas we cover include personal injury, commercial and company law, wills, probate and the Elderly, mortgages and moving house and medical negligence.
At Harold Stock and Co Solicitors, we ensure to withhold our renowned reputation as a friendly and approachable firm of specialist solicitors. With three offices located in Stockport, Failsworth, and Mossley; our solicitors provide genuine reliable services that cover Manchester, Tameside, Oldham and Cheshire areas. We have acted for clients throughout England and Wales. Our flexible approach and the benefits of modern technology mean that you do not have to live near to us to benefit from our specialist advice and experience.
Our team possess both experience and knowledge in law. All of our lawyers are dedicated in delivering a real value for money and quality of service to our clients.
Visit Harold Stock and Co to find out more.
---

Catax are experts in specialist areas of tax relief, including Capital Allowances, Research & Development and the Patent Box.
We have been helping clients secure tax relief for over 10 years and have identified over £221m in tax benefit for our clients to date.
Headquartered in Manchester, with offices in London, Glasgow, Edinburgh and the Channel Islands, we work with businesses throughout the UK.
We have a team of over 100 in-house experts that includes Surveyors, Tax Technicians, Accountants, Report Writers and Technical Account Managers.
We break down the claims process for you, so all our clients have to do is provide us with some details, and we will take care of the rest. There are no complicated forms to fill out, no legal language to unpick and no tax law to unravel.
We are trusted partners with many of the UK's top accountants, solicitors, the Law Society, ICAEW, IFA and CIMA amongst other industry bodies. So far we've helped thousands of clients claim their money back from HMRC.
Visit Catax to find out more.
---
Mini-Competition Sponsor

Cardinal Maritime is an award-winning business offering highly engineered supply chain solutions, 3PL services, internet fulfilment, global freight forwarding and other bespoke solutions.
We're a technology-led logistics business; leading the industry with our innovative, intelligent and adaptable IT solutions. This includes Leda, our intuitive supply chain platform that provides real time control and processing of sales and purchase transactions, giving our clients true supply chain visibility, control and value.
Our account managers and supply chain engineers obsess about product and service and are dedicated to ensuring that all clients receive optimum value and efficiency.
Founded in Manchester, 20 years ago, we now have 17 offices worldwide and are the UK's fastest growing logistics business. Our success and pioneering outlook were recently recognised with the prestigious Manchester Evening News Business of the Year award.
To find out how we can redefine your supply chain visit Cardinal Maritime.
---
Half-way House Sponsor

Connectivity is central to our working lives. So why should our approach to talent acquisition be any different?
Blue Octopus don't think it should.
With a decade of experience, Blue Octopus has made a bold move to set up a fresh proposition that joins the dots for everyone.
As a dynamic business, they are true disruptors in the marketplace. They don't have layers of bureaucracy. Just a Board and a team of over 30 ready and willing to take risks and lead the way in talent acquisition.
Blue Octopus is dedicated to driving progression – for their clients and for potential talent. They don't waste time, money or other precious resources. They know what they need to do, and they get on and achieve it. They listen to the market and they use their knowledge and insights to develop smart solutions and next generation technology that address end users' needs.
Recruitment was the starting point. The end has yet to be defined.
Get in touch today to see how Blue Octopus can support your talent needs. Visit Blue Octopus.