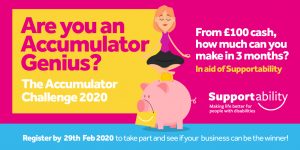 Do you have what it takes grow £100 into as much money as possible in three months? If so, why not sign up for our Accumulator Challenge where you'll have fun competing with other businesses to raise the most.
How it works
It's really simple. We'll give you £100 and you have from 1st March to 29th May 2020 to turn this into as much money as possible. As long as it's legal, you can raise the money in any way you wish. We'll be running a leader-board throughout the campaign and hold a celebration event where we'll crown the winning team.
The challenge could really benefit your business in the following ways:
it's a great way to bring colleagues together in a fun and engaging way
it can help develop leadership and business skills, just think The Apprentice
your brand will be exposed in the local media & business community and you'll be associated with helping to make lives better for people with disabilities in your community
there's no cost to your business.
Here are some ideas to help get you started but have fun with your team brain-storming the best ideas that'll work for your business:
use the money to buy ingredients for a cake sale
buy the goods
buy the goods for a tuck shop and sell them on for more
sell tickets for a themed event
put on a 'race night' on Grand National day
Buy something on EBay and sell it for more.
To find out more or to sign up contact Becky Shorrock on 0161 432 1248 or 07397 981 868 or becky.shorrock@supportability.org.uk