Statement from Mary Stanley, Deputy CEO, Monday 15th May 2023
I wanted to thank everyone so much for their support and donations for my recent boxing match. Everyone was so incredibly generous, and we are so grateful. Unfortunately, the target of £6,600 was not reached.  As the donations that were made were restricted to the interactive table, we would like to repurpose the funds and spend the money on our new mini bus. This bus will benefit all of our services and has been an essential investment as our previous mini bus is no longer fit for purpose. We want to continue to ensure the people that we support are able to access services and activities out and about in their community.
As we are changing the purpose of the money raised, you as the donor are entitled to refund your donation. If you would not like to contribute to the mini bus and would like a refund of your donation please contact the fundraising team, in writing, either via email fundraising@supportability.org.uk or to Fundraising, Supportability, Granville House, Parsonage Road, Heaton Moor SK4 4JZ by Wednesday 31st May. If we have not heard from you by this date, your donation will be unrestricted and repurposed to contribute to the cost of the mini bus.
Thank you again for your fantastic support.
Mary 'Smasher' Stanley
Our very own Head of Operations Mary Stanley in taking on the ultimate challenge of a white collar boxing match in order to raise £6,600 for an interactive activity table for the people we support in our services.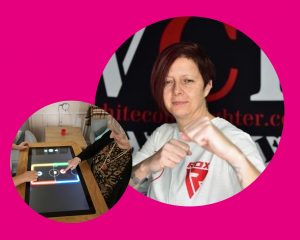 This is Mary's story:
"I'm Mary Stanley and I am the Head of Operations for a local Stockport based charity based in Heaton Moor called Supportability.
Supportability supports children, young people and adults with a wide range of complex physical and learning disabilities and our aim is to enable those with disabilities to live a fulfilled and independent life.
We are passionate about providing quality support services that enable those with complex physical and learning disabilities to promote their independence and to enjoy and take part in everyday life and to have access to the same opportunities and choices as anyone else.
As the Head of Operations, I oversee all of the services we provide. We provide support in the home, community, at our specialist day service, as well as providing long term residential support and supported living.
I signed up to WCF Stockport as I wanted to raise funds for an interactive touch screen activity table that will really enhance the lives people accessing or living in our services while also challenging myself and doing something outside of my comfort zone.
Having an interactive touch screen table will enhance the person-centred experience for the people using it, as well as enhancing their lives through supporting people to be more physically, cognitively, and emotionally engaged and will supports improved and overall well-being, mood, and atmosphere within the setting.
Via the use of appropriate apps downloaded to the table they can be used to promote memory and brain training, creativity and art, video calling loved ones, relaxation and meditation, interaction and storytelling, pub games, theme nights and music therapy, physical exercise, tabletop games, religious services, hand/eye coordination, sensory activities and calming therapy and support self-regulation when people are feeling anxious.
In a constantly ever changing and developing technological world, it is so important that the people we support have every chance to access and engage in modern technology as part of their day to day lives and that they have these opportunities the same as anyone else. This can be difficult within a social care environment due to difficult and ongoing funding challenges faced by charities and social care providers and the cost of assistive technology being so much, it can sometimes feel out of reach.
White collar boxing is brand new to me and the nerves (and excitement) are already kicking in. I will be training twice a week on the run up to fight night and will keep you all updated on my progress.
Please give as much as you can to help my achieve my fundraising target of £6,600 and help us to fund this fantastic piece of equipment to for the equally fantastic people we support.
Thanks
Mary"
To sponsor Mary's amazing challenge, please scan the QR code below or click here for her Collection Pot page.
Don't forget to follow our Facebook page to keep up to date with Mary's training and progress.