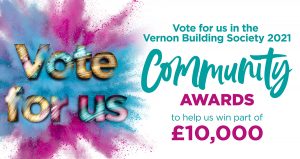 We're delighted to have been shortlisted in this year's Vernon Building Society Community Awards. We need your help though, as we need your vote to help us to win up to £1,500, which will go towards our Wheelers project.
Supportability Wheelers offers weekly cycling opportunities throughout the year for disabled adults, children & young people. The project has a variety of adapted cycles to enable individuals of all abilities to experience and enjoy cycling.  We rely on donations and funding to run the project and winning this would make a huge difference to us and those who enjoy Wheelers each week.
Voting is easy, and we'd be very grateful if you could spare a few moments to place your vote.  Simply click VOTE HERE and select Supportability. Please share with friends, family and colleagues too as the more votes we receive the better our chances of winning the top prize.
Voting is open now and you have until 8th October to vote for Supportability.