Stockport CP Society's 26th Golf Day raises a record £16,000!
More golfers turned out than ever before for our 26th Golf Day event on Friday 13th September and we are thrilled with the whopping £16,000 that the event raised.
A record number of 36 teams of keen golfers tee'd off at Heaton Moor Golf Club to enjoy a full day of activities which included a round of golf, refreshments at the halfway house and a 2 course meal to round off the day.
We also had additional activities to really test the skills of our players – a 25ft putt challenge and new this year, was the Chipping Challenge where prizes included holiday vouchers and bottles of Champagne, Gin and Brandy.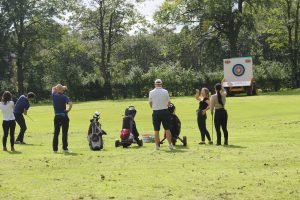 There were also competitions on each hole, for example, winners of the longest drive, nearest the pin, teams not hitting a tree and no players in a bunker. An example of a prize, some of which were donated by ACS Construction Group (our main sponsor), included a 49" plasma TV!
Overall winners of the men's and ladies team winners are pictured.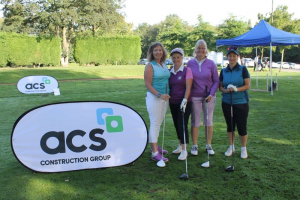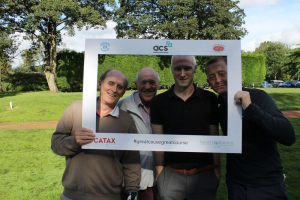 Regional businesses and supporters of the Society either played the course, sponsored a hole, or donated some fantastic prizes to form an impressive array of gifts and experiences as part of the raffle. The top prize being an overnight stay at the Manchester Marriott Victoria & Albert Hotel.
For the second year running, we also ran a 'Silent Auction' where golfers and non-golfers alike could submit bids to win a range of fabulous items donated by the main sponsor and regional businesses. Items included a Porsche experience and a private dining experience where Executive Chef Craig Riley would cook an 8 course meal for 10 of your guests in the comfort of your own home.
Once again, some of the Society's Service Users enjoyed taking part in a golf session run by England Golf giving them a great introduction to the world of golf enabling them to participate in the day's activities.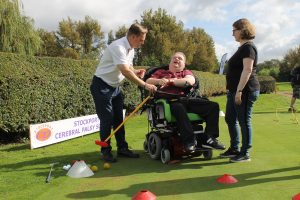 Our main sponsor was ACS Construction Group, with our co-sponsors being Catax and Harold Stock & Co. Solicitors – we cannot thank them enough for their support!
Sarah Thomas, CEO, said:
"The day went amazingly well. The weather was perfect for golfing and to have finished the day with a record amount raised for the Society in the 26th year of our annual golf day was just incredible. There were lots for golfers and non-golfers to get involved with and we really hope everyone enjoyed it. Thank you to everybody who supported us on this event – it means so much to us, our service users and our carers."
For information on how to register for next year's event contact the Fundraising team on 0161 432 1248 or email: events@stockportcp.co.uk