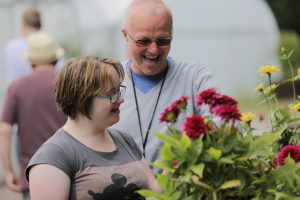 Your Career with Supportability starts here
At Supportability we provide opportunities and support for disabled adults and children to enable them to lead the life they want. We focus on valuing people, teamwork, being competent and responsive and these values underpin everything we do to make life better for the people we support.
We are looking for people who can demonstrate compassion and empathy in their approach to supporting people, either through previous roles in social care or personal transferable life experiences. In return we can offer a truly rewarding and fulfilling career with an organisation that is fully committed to investing in staff development by providing excellent training and opportunities, and also benefits, such as:
Up to £500 sign on bonus – £250 when you start and £250 when you complete your probation period
Double pay for bank holidays
30 days holiday rising to 40 days with service (inclusive of bank holidays and pro rata for part time staff)
Induction and training programme
Pension
Occupational Sick Pay
Healthcare Cash Plan
Opportunities for progression and development via relevant qualifications plus more.

Hear what our Support Workers say
Our Support Workers share their thoughts and experiences of what it feels like to work for Supportability.
"I was attracted to the role at Supportability as I have a background in disabilities as I have 2 children who have different types of disability.  One with Cerebral Palsy and one with one with Autism and I felt I could relate to families going through the same thing that I have been through and offer them guidance and support.
I do my job as I get a great sense of achievement from supporting residents to do things that they enjoy whilst making sure that they are safe but always promoting their independence.
I feel like the residents/service users I support get to live a safe, enjoyable life at the same time as getting the support that they need in a person-centered way and are given choices in their day-to-day life. 
Full training is given with the chance to progress within the company if you to. Supportability offer a great range of extras such as sick pay, good holiday pay, Healthshield, ride to work scheme and reduction to gym membership." 
Candice, Deputy Manager, Cheddle Lodge
"I was attracted to the job as I had a sister who had a disability, but she sadly passed away.  My sister attended Skills Group at Supportability and from what I learned about it, I thought that I would enjoy working in the environment.
I get satisfaction from my job and feel like the residents are part of my family.
The residents are looked after in a person-centered way and get involved in everything to do with their care.
Cheddle is a care home and run as a home-from-home, which is lovely." 
Julie, Support Worker, Cheddle Lodge
"I was attracted to the job role when I met the residents and staff at Cheddle.
I enjoy working with the residents and I get a lot of satisfaction and enjoyment from my job.
I feel that the support I offer the residents gives them trust and security.
The package that you get when working with Supportability is great, which includes holiday pay, sick pay and HealthShield."
Alison, Support Worker, Cheddle Lodge